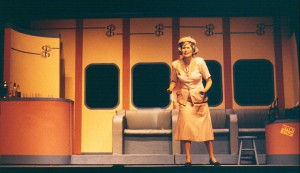 How hard is it to be funny?  "Very hard," said the actress who was not well prepared for her funny monologues for women.  It's not a good feeling to be standing in front of someone wishing you had taken the time to do things you could have easily done by putting in a little time and effort.  When talking about auditioning for a potential role, that feeling of regret should never happen.  Preparedness for a funny monologues for women is something every director and talent scout will be looking for.
What it Takes to do a  Good Funny Monologues for Women
Many actresses think that they have what it takes to act, and that simply showing up will get them noticed.  Some think looks are all it takes; others think that a good speaking voice is the key.  Actors who think this way are rarely successful in the acting industry.  It's a little like all those kids who play sports hoping to be in the Professional Leagues.  It's different however, in the fact that a little prep, a small dose of courage and a bit of talent may be enough to actually have the "job" of actress.
Where to Start
Selecting a Monologue
This may actually be the hardest part of auditioning.  There are so many things to consider when performing for a panel which will decide if you're "good enough" or "right" for their needs.
Your acting strengths
Needs of the director
Needs of the role within the piece
Style of comedy in the piece
Before you ever step foot on a stage you should have already performed this funny monologues for women so many times that you naturally become the character.  Taking into consideration all the things mentioned above and meshing them together is the trick.  Are you good at this style of comedy?  Are you at all like the character in your monologue, and how can you combine the best of you and this imaginary person you are trying to create?  When preparing, do some research on the director and producer.  What have they looked for in the past?  Is this type of funny monologues for women something they have seen and appreciated in the past?  All of these are things you can find out by simply looking on line for past productions.
Time to Become your Character
Now you have chosen the appropriate funny monologues for women, it's time to prepare for the actual performance at your audition.  It's not just about picking someone you think is:
a)      Funny
b)      Likable
c)       Known
An audition monologue should be a character you identify with on some inner level; a spark of familiarity and concern.  You should have several monologues prepared at all times, and each one should be that fictional soul partner.  With a funny monologues for women the character will have to be funny and likable, but is this woman someone you can portray in the manner you perceive them.  The only way to tell if you and this character have what it takes is to perform the monologue; over and over again.
Practice
Practice now becomes the paramount concern for mastering this funny monologues for women.  Do several different kinds of practice.
Practice with a scene partner
Practice by yourself
Practice in front of an audience (any and all audiences you can get)
A monologue by definition is solo, but at the same time may involve a conversation you are having with another character.  It's a good idea to start your funny monologues for women practice with another person.   This not only gives you an image to see internally when you are on stage by yourself, but it's also that uber-important idea of practicing with an audience.  The idea, to receive feedback on your monologue.
Once done with "memorizing" practice, it's time to fly solo.  Do this piece so much, that you literally do in your sleep.  You will need to start doing it alone now, and begin the process of setting the scene of this funny monologues for women in your mind.  Still try to have an audience to perform for though.
Family
Friends
Fellow actors
Other people front the industry
All of these make good observers.  The point of doing this is two-fold.  You want to alleviate your nerves as much as possible, and you want their feedback.  Put aside feelings and really listen to what's being said.  I guarantee you will find useful tips among the comments.
Now go Act Hell Out of Your Funny Monologues for Women
You have prepared and practiced your funny monologues for women. Now go out on stage becoming this funny lady you've worked so hard to master.  You only have about 90 seconds to wow the auditors, but your hard work will show, and eventually you will spark something in one of those judging your ability.  Then the magic of your funny monologues for women will really begin.